Art educations may be perceived as a tool for the development as aesthetic sensibility among learner to enable them to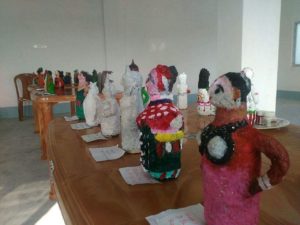 respond to the beauty in color, shape,from,movement. Art  educations and appreciation of one's cultural heritage may go side by side and reinforce the understanding of each others.Art educations enables students and faculty to fully experience the joy of teaching learning. It enables them to fully appreciate and experience the beauty of the universe and helps in their healthy-mental development.Other objective of art educations are to being student closer to their environment, to them about their cultural heritage and to inculcate in them respect for each other's work. Fine art would have developed enough motivations and interest among them in the subject. Art education can provide most satisfying medium of creative expression which has to be given due importance the best interest of the society.
We have a ART & CRAFT lab to enhance students for their art activity. According to our syllabus we tech the theory as well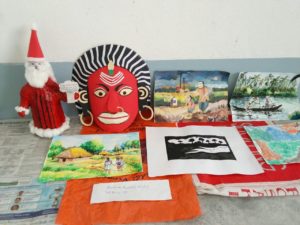 as do the practicum class with power point presentation. We have tried to develop their color sense,value of heritage and as well as beauty of nature. We tech them how to develop proper collage work, poster design and mainly thing that how to prepare any model useful for teaching learning out of waste or low cost materials.
FINE ART'S EQUIPMENT'S:-
Wood cut tools,
water colour,
oil colour,
spetchula,
brush set,
canvas,
mount board,
clip,
dry pastel,
canvash board,
jiban jor glue.